---
b!Gollem
genetic programming to play the game go

gollem (alt. golem) -- n. In Jewish folklore, an artificially created human being supernaturally endowed with life.
---
What is Go ?
Go is an ancient game of strategy that is played all over the world.
Two players take turns placing stones on a 19 by 19 grid of lines. (Stones are placed at the intersections.)
An empty intersection immediately adjacent to a stone is known as a liberty of that stone.
Stones of the same color that are directly connected are known as a group. Groups share liberties, so that two adjacent stones may have six liberties.
A group that has no liberties (one that is completely surrounded by stones of a different color) is captured and removed from the board.
At any point a player may pass rather than placing a stone. Play continues until both players pass on consecutive turns.
The ko rule forbids repetition of a board position.
The winner is determined by the amount of territory surrounded on the board and the number of opponent stones that have been captured (depending on the particular rule-set used).
More information about go can be found at the pages referenced in my go links page.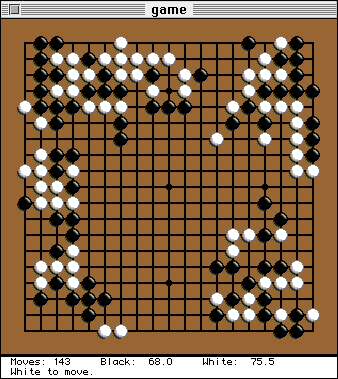 A screen shot from b!Gollem of a game in progress.
What is b!Gollem ?
Gollem is a genetic programming system that evolves strategies to play the game go. You can use Gollem to referee a game between two people, you can play against the computer, you can pit Gollem against itself, or you can watch Gollem "evolve" by "breeding" new players.
Gollem is a work in progress that is nearing completion. The pages that follow provide an overview of the design of the system. The pages are organized as follows:

The GUI Interface
A user's guide.

Genetic Components
What Gollem knows, how Gollem learns.
---
You can send me mail,
or return to my portfolio, my resume, or my main index.
---



---
This page was made using a simple ASCII text editor by r.waldhoff. (copyright &copy 1997)
Best viewed with your browser.